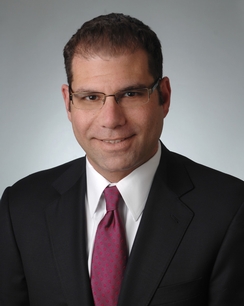 David C. Butman
180 North Stetson Avenue
Suite 3400
Chicago, Illinois 60601
David Butman is a partner in the Insurance and Reinsurance Group of Hinkhouse Williams Walsh LLP. David has 18 years of experience litigating and arbitrating insurance, reinsurance and commercial disputes before courts and tribunals across the country. He has served as lead and co-lead counsel to foreign and domestic insurers, cedents and reinsurers in high-exposure, multi-party coverage litigation and arbitration, as well as to businesses and individuals in contract, antitrust, employment and products liability matters.

David's experience ranges from the representation of a major U.S. casualty reinsurer seeking rescission of its reinsurance contracts before a private arbitration panel, to deposing a former justice of the Chilean Supreme Court in connection with a professional liability claim involving the defective design and construction of a gold mine in the Chilean Andes. He has negotiated and concluded commutation agreements, and coverage in place agreements with an aggregate value in the hundreds of millions of dollars. David was the lead counsel to foreign insurers of an asbestos producer and is responsible for developing and implementing the defense strategy that resulted in 13 favorable jury verdicts in 15 trials.

In addition to his litigation practice, David is regularly called upon to advise insurers, reinsurers and brokers on U.S. economic and trade sanctions regulations administered and enforced by the U.S. Treasury Department's Office of Foreign Assets Control (OFAC). OFAC regulations present unique challenges to the day-to-day operations of companies in the insurance industry, and David's insurance expertise enables him to effectively advise companies on the application of OFAC regulations to their business. David has conducted dozens of internal investigations and prepared as many voluntary disclosures and license applications on behalf of his insurance industry clients under myriad OFAC sanctions programs.
---
Experience
Insurance and Reinsurance
In 2014, David argued and obtained a unanimous decision from the 7th Circuit Court of Appeals reversing the district court's refusal to compel arbitration of Section 155 claims.
In 2013, David convinced an Illinois court to retain jurisdiction over an insurance coverage action notwithstanding a Tennessee court's prior decision to proceed with a competing action, causing the Tennessee court to subsequently reconsider its decision and dismiss the competing action.
In 2013, David obtained summary determination that defense costs were not covered under his client's excess policies where his clients had not provided written consent.
In 2009, David obtained a unanimous $10 million arbitration award that included the rescission of four casualty reinsurance treaties, restitution for all losses paid under the treaties, interest and the recovery of all of this client's attorneys' fees and costs.
In 2009, David convinced a panel of reinsurance arbitrators to invoke its inherent authority to require a financially distressed, recalcitrant reinsurer to post pre-hearing security to ensure funds would be available to satisfy his client's claims and to protect the integrity of the arbitration process.
Litigation
Following nine months of intense hearings before a municipal zoning board, David obtained a complete victory in a well-publicized religious rights zoning matter involving the Religious Land Use and Institutionalized Persons Act (RLUIPA).
David was lead counsel for a waste hauler in a multi-million dollar breach of contract action filed by a waste-to-energy facility in Cook County, Illinois. David was retained late in the litigation and immediately filed counterclaims for breach of contract and fraudulent misrepresentation. After defeating challenges to the counterclaims and aggressively defending against the allegations made against his client, he negotiated a release of all claims brought against his client and obtained a monetary settlement in satisfaction of his client's counterclaims.
David was lead counsel for an office equipment distributor against third-party claims of breach of express warranty and implied contractual indemnity in Sangamon County, Illinois. David obtained a complete victory for his client on summary judgment.
OFAC Compliance
David has made disclosures to OFAC and obtained licenses under the Cuban Assets Control Regulations, Iranian Transactions Regulations, Syria Sanctions Regulations and Sudanese Sanctions Regulations.
David has counseled (re)insurance brokers on implementing policies and procedures under General License H to allow their foreign subsidiaries to engage in authorized transactions involving Iran.
David has advised foreign aviation reinsurers in international air crash cases implicating the Iranian Transaction Regulations and Sudanese Sanctions Regulations.
David has advised U.S. and foreign political risk insurers and reinsurers with respect to the Cuban Assets Control Regulations, including conflicts posed by foreign anti-blocking laws.
David obtained a no action letter for a London-based reinsurance broker's transmission of an Iranian reinsurer's claim payments.
David obtained no action letters for U.S. reinsurers of life polices assumed under semi-automatic treaties.
David has advised insurers, reinsurers and (re)insurance brokers on developing, implementing and improving their OFAC compliance policies and procedures.
Related Practices
Education
Chicago-Kent College of Law, J.D., with honors, 1998

CALI Award in Environmental Law & Policy
Moot Court Team

University of Wisconsin, Madison, B.S., 1992
Admissions
Illinois State Bar, 1998
U.S. District Court, N.D. Illinois, 1998
U.S. District Court, C.D. Illinois, 1999
U.S. District Court, E.D. Wisconsin, 2007
Articles and Presentations
Speaker: American Conference Institute, 2nd Annual Forum On: AML and OFAC Compliance for the Insurance Industry, New York, NY (January 2012)
Speaker: Association of Run-Off Companies, Estimation of Liabilities in Commutation, London, UK (November 30, 2011)
OFAC Steps Up Enforcement Against (RE) Insurance Industry (April 29, 2011)
OFAC, AML and FCPA Compliance Update: California Insurance Commissioner Turns Up the Heat as State Departments of Insurance Assist Uncle Sam (December 11, 2009)
OFAC, AML and FCPA Compliance - State Departments of Insurance Lend a Helping Hand to Uncle Sam (August 18, 2009)
Speaker: Wall Street Forum: Insurance Coverage and Tort Litigation (2005)
Related News