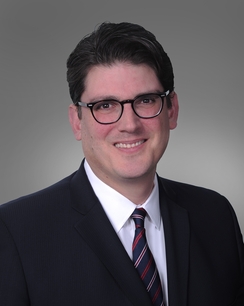 Jason H. Nash
180 North Stetson Avenue
Suite 3400
Chicago, Illinois 60601
Jason Nash is a partner in HWW's Advertising Injury Litigation Group. Jason's practice focuses on the defense of complex civil litigation, particularly the defense of advertising injury disputes and commercial fraud cases brought by plaintiffs both individually and on behalf of a putative class. Jason represents the interests of his clients in courtrooms throughout the country and in all aspects of the litigation process, including trial, mediation and appellate practice.
---
Experience
Jason's representative engagements include:
Commercial Fraud & Complex Litigation
Secured dismissal with prejudice and denial of class certification of a putative nationwide class action fraud and fraudulent omission case filed on behalf of millions of purchasers of a popular video game against the developer and producer of the game based on alleged misrepresentations and omissions related to the game's scope and longevity filed in the Middle District of Florida;
Obtained an Order striking class allegations at the pleadings stage in a second putative class action brought against the developer and producer of a popular video game alleging fraud and unfair business practices filed in the District of Colorado;
Secured dismissal with prejudice of a professional negligence and tortious interference case brought against a professional engineer who provided consulting and expert services to a state Department of Transportation on a major highway construction project filed in a Florida state court;
Obtained dismissal with prejudice of an automotive retailer accused of participating in a complex fraudulent scheme in violation of the federal Racketeer Influenced and Corrupt Organizations Act ("RICO") and state consumer protection statutes; HWW's removal of the case to Eastern District of California and the dismissal with prejudice was affirmed in a published opinion by the Ninth Circuit Court of Appeals.
Advertising Injury & Intellectual Property Litigation
Represented a furniture retailer in a two week jury trial held in the Southern District of Florida in a copyright infringement suit regarding the design of various furniture pieces;
Defended the developer of a prominent Tribeca condominium building in a copyright infringement suit filed by a renowned architect in the Southern District of New York;
Defended a contract manufacturer in a patent, trademark and trade dress infringement case filed in the Northern District of Illinois that was resolved through a successful mediation;
Represented a major retail grocery chain and its supplier at mediation and in all aspects of a trademark infringement and unfair competition case filed in the Western District of North Carolina;
Defended a large regional dental practice from claims of trademark infringement, trade dress infringement and unfair competition filed in a Pennsylvania state court;
Defended a well-known jewelry designer and a world-famous fashion model from claims of trademark and trade dress infringement arising from the design of a line of jewelry products in the Southern District of New York.
In addition, Jason is very active in the Chicago charitable community. Jason is the former Chair of the St. Procopius Legal Aid Clinic, a Chicago Volunteer Legal Services organization, and is a former member of the Associate Board of Directors of the American Cancer Society.
Prior to his graduation, the University of Illinois College of Law awarded Jason the prestigious Rickert Award for Excellence in Oral Advocacy. Jason was also a regional champion and national finalist in the National HNBA Moot Court Competition, was awarded "Best Brief" in nationwide competition, and served as an editor on the HNBA Moot Court Board.

Related Practices
Education
University of Illinois College of Law, J.D., cum laude, 2005
University of Illinois, B.A., 2002
Admissions
Illinois State Bar, 2005
U.S. Court of Appeals (9th Circuit)
U.S. Court of Appeals (11th Circuit)
U.S. District N.D. Illinois
U.S. District Colorado
Memberships & Affiliations
Associate Board of Directors of the American Cancer Society
St. Procopius Legal Aid Clinic